We're huge fans of the "stay-cation", but sometimes a little bit of luxury and time away from home is just what's needed to kickstart body, mind and soul.  
To help you along, here's four amazing Queensland getaways—based on our experience and recommendations from trusted friends – no ads here! Plus, we've included a special bonus! 
One Wybelenna 
First, let's unwind at this wonderful spa, just outside of Brisbane City. One Wybelenna is set on a huge property in beautiful Brookfield. The property oozes luxury and relaxation, both inside and out. 
One Wybelenna offers a range of services that will have you relaxed, stimulated and motivated by the time you leave the grounds. We recommend spending a day and indulging in the Classic Full Day Package which includes 30 minutes in the outdoor Magna Spa & Pool, a 45-minute Aromatic Sea Salt full body exfoliation with rain shower followed by a 60-minute Relax massage, a 15-minute Indian head massage and a 60 minute One Wybelenna Custom Facial. A 30-minute Express Manicure and 30-minute Express Pedicure complete the pampering. It also includes a light lunch and refreshments. 
Built across two acres on the site of an iconic 1960's Brisbane home, this beautiful day spa has won numerous awards both for their services and for the architecture and landscaping. What a way to spend a day! For more information, go to https://www.onewybelenna.com/  
W Hotel Brisbane 
W Hotel recently opened in Brisbane and has been filled with celebrities and curious Brisbanites ever since.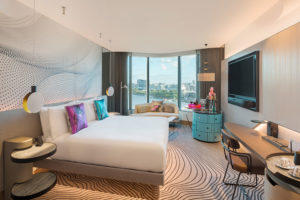 As well as offering spa services and unrivalled views of South Brisbane and the Brisbane River, W Hotel Brisbane is also pet friendly, so the whole family can enjoy a weekend of pampering. 
Enjoy a spot of shopping, brunch at Three Blue Ducks restaurant and end the day with cocktails at the WET Deck with spectacular views over the city.  
W Hotel Brisbane has rooms and suites from $332 per night. It's a great location in the city's heart and just a short stroll across the Brisbane River to QPAC for a show! 
For more information visit https://w-hotels.marriott.com/ and select Brisbane. 
Hamilton Island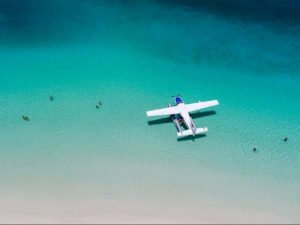 Great family destinations can be hard to find, but at Hamilton Island there's something for everyone. Located on the Great Barrier Reef, just off the Queensland coast from Airlie Beach, Hamilton Island has stunning accommodation for singles, couples and families, along with a myriad of activities. You're bound to find something to suit! 
Consider staying at the Reef View Hotel or Palm Bungalows if you're travelling as a family, or the Beach Club if you're looking for a child-free getaway. If you're really looking to luxe it up, book a suite at the world-renowned Qualia and let the pampering begin! 
Hamilton Island easily offers you the option of either an action/adventure packed getaway or a relaxed getaway. If it's adventure you're after, check out the water sport options including paragliding, scuba-diving and sailing. The island also offers quad biking and helicopter tours. 
If you're after a steadier pace, consider a day tour to one of Australia's best beaches, Whitehaven Beach, a round of golf or sunset cocktails at One Tree Hill. 
This destination will tick all the boxes and ensure you return feeling refreshed and revitalised. 
Check the Hamilton Island website for accommodation options and other activities https://www.hamiltonisland.com.au/  
Sunshine Coast Hinterland 
There's a little pocket of Queensland where the rainforest touches the clouds and wildlife abounds. It's the gorgeous Sunshine Coast hinterland, with views to the coast but a pace that beats to a different drum. 
You'll find some great craft shopping in Montville and Maleny, along with delicious local produce, wine and hand-made chocolate! 
You will be spoilt for choice in terms of day spas and restaurants. There's some wonderful rainforest tracks leading to beautiful waterfalls and swimming holes, if you're keen to get closer to nature. 
One of the best ways to enjoy the Sunshine Coast hinterland is to stay in a rainforest retreat where you can wake up with the birds and watch the sun rise over the trees. Spicers Tamarind Retreat or Spicers Clovelly House offer luxury retreat stays (https://spicersretreats.com/retreats/spicers-clovelly-estate/), while Hunchy Hideaway (https://www.montville-cabins.com.au/) is great for, well, hiding away! 
Check out www.visitsunshinecoasthinterland.com.au for accommodation options and more tips on things to do and see. 
BONUS TIP 
We've given you our top four picks to rest and relax in beautiful Queensland but we had to include one more that's not quite local but has a local connection… 
Halcyon House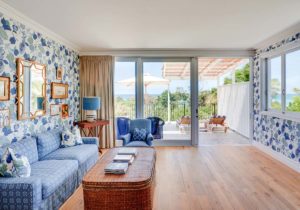 After a recent interior design makeover by top Australian designer and local Redlands Coast resident Anna Spiro, Halcyon House is looking amazing and you will be too by the time you leave. 
Yes, we've ducked over the New South Wales border to Cabarita for this one, but we simply couldn't leave it off the list. 
Not only does Halcyon House sit in a spectacular, relatively untouched part of the coast, it offers seaside relaxation in the spa and boutique, and delectable food at the award-winning hatted restaurant, Paper Daisy. 
Each room at Halcyon House has been skilfully designed by Anna Spiro, incorporating antique furniture and eclectic fabric wallpaper. 
Halcyon House is the perfect spot to kick back and relax, unwind and refresh. Consider booking one of their stay packages which can include surfing lessons or a luxury Audi A1 for use to see the local sights. 
The details of this beautiful property can be found at https://halcyonhouse.com.au/  
Don't delay booking your next getaway. We hope you enjoy our recommendations as you relax and refresh.